SA Sport Kite Nationals
24 - 26 September 1998
---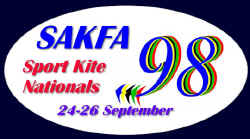 South Africa's premier kiting event in late September was a mixed bag, not only of competition and leisure kite flying, but also of weather.The start was signalled by an officials meeting on Wednesday evening to set the scene for the competition and to meet Jeremy Boyce who had only been in Cape Town for 3 hours! We all know Jeremy as member of one time world champions, Airkraft, but this time representing STACK and filling the position of Head Judge, advisor, consultant, etc., at SA's first ever STACK sanctioned event and third Nationals.

Thursday began wet and windy, the Cape of Storms making every effort to show off this facet of its reputation. The programme was tight, so we had to go ahead with the Masters precision schedule come hell or, as it did, high water. Despite careful planning of dates and tides, the strong onshore winds of the past few days made sure that the water encroached on our arena even at the midday low. The poor judges spent many a session almost knee deep in the water - what sterling people kite judges are - we hope the flyers recognise this more often.The first two competitors broke their kites in the high wind, but at least they stayed in the competition. There was much amusement on the sideline during the Pairs and Team precision when the lighter team members had to be anchored by a heavyweight assistant. The sight of Theo Marnewick hauling on a rope around young Pierre Joubert's waist was an amusing sight, although it was serious business in the arena! Despite the weather, we finished the day's programme in good time, including the first of the Quad events.

Friday at least brought on some sunny weather, with firm, gentle, onshore breezes for the Experienced class programme. Happily the overseas visitors were able to improve their opinion of Cape weather, and we could justify our choice of venue. The beach started to look a little like there was an event taking place.

The Cheese & Wine on Friday evening was a great opportunity to relax and mingle with kite friends from around the country and indeed around the world.

Saturday was much the same for the final part of the competition programme, the Masters and Open ballet events. As expected, there was a fair gathering of spectators for the ballet, and some of the best ballet that we've seen locally was flown.

Saturday evening's banquet, prize giving and auction was well attended.

Richard Gradner of Red Bull opened the evening's proceedings with the good news that Red Bull would like to become more involved in the event in future, an offer that raised the organiser's spirits considerably! The medals ceremony saw some happy faces, and a few surprises as the results had been kept under wraps by scorers Julie Holdstock and Chris Langham up to that point. The top honours taken were:

Open Team: Rare Air (Kaczmarek, Matchett, Pereira)
Open Pairs: Rare Pair (Kaczmarek, Matchett)
Masters Individual: Zbys Kaczmarek
Experienced Individual: Pierre Joubert
Quad Masters Individual: Steve Matchett
Quad Experienced Individual: Ryan Langham
Quad Pairs: Rare Pair (Kaczmarek, Matchett).

Detailed results are shown below.

Many thanks to the following officials for their help and effort during the competition:

Judges: Jeremy Boyce, Rodger Duffet, Tarin Moult, Johan Joubert, Jan Marais, Zbys Kaczmarek, Dave Moult
Time Keepers: Michelle Moult & Gary Plante
Line Judges: Gary Plante, Pierre Joubert, Ryan Langham, Neville English, Colin Mortimer, Kevin Derrick
Scorers: Julie Holdstock & Chris Langham

A special thanks to Jeremy for the all work and very little play trip that you made to South Africa at such short notice - we are the richer for the experience and we hope that you are too.
---
Photo Gallery
Click on Images for full size viewing

The Competition arena, Steve Holdoway from the Netherlands (UK?)(SA?) busy with his ballet routine in the Masters dual-line event. Table Mountain in background.


Winner of the dual-line individual masters event, Zbys Kaczmarek


Winner of the quad-line individual masters event, Steve Matchett (right)


Team 'Rare Air' receiving some team flying tips from Jeremy Boyce


Winner of the dual-line individual experienced event,
eleven year old Pierre Joubert with Xtacy


(left to right) Steve and Ryan Langham and Jeremy
Ryan, first and Steve, second in quad-line individual
experienced class


Team Rare Air,(left to right) Steve Pereira, Zbys Kaczmarek and Steve Matchett, Winners in dual_line team event.



Dual-line and quad-line pairs winners
Rare Pair, (left) Zbys Kaczmarek (Right) Steve Matchett
Jeremy Boyce (center)


(left to right) Zbys Kaczmarek, Jeremy Boyce, Steve Matchett and Steve Holdoway
during the cheese and wine function.
---
DUAL

-LINE MASTERS INDIVIDUAL
RESULTS

RANKING:

POS

.

NAME

PREC.

BALLET

TOTAL

PREC.

BALL.

TOT.

1
Z Kaczmarek
51.08
60.65
55.86
3
2
1
2
S Matchett
51.70
56.30
54.00
2
3
2
3
J Joubert
46.78
61.00
53.89
4
1
3
4
T Marnewick
52.00
52.55
52.28
1
5
4
5
J Marais
45.33
55.00
50.16
5
4
5
6
S Vos
40.60
48.65
44.63
8
6
6
7
J Stott
42.13
44.95
43.54
6
8
7
8
Steve Holdoway
33.00
47.60
40.30
9
7
8
9
S Pereira
42.00
DQ
21.00
7
9
9

DUAL

-LINE EXPERIENCED INDIVIDUAL

RESULTS

RANKING:

POS

NAME

PREC.

BALLET

TOTAL

PREC.

BALL.

TOT.

1

P Joubert

55.85

62.30

59.08

1

2

1

2

S Langham

52.05

55.05

53.55

2

4

2

3

L Brooks

49.15

55.75

52.45

3

3

3

4

L Hurter

36.70

62.70

49.70

6

1

4

5

D Moult

39.00

51.90

45.45

5

5

5

6

R Langham

40.10

50.70

45.40

4

6

6

7

K Marnewick

24.98

50.10

37.54

7

7

7

QUAD

-LINE INDIVIDUAL MASTERS

RESULTS

RANKING:

POS.

NAME

PREC.

BALLET

TOTAL

PREC.

BALL.

TOT.

1

S Matchett

46.15

61.65

53.90

1

1

1

2

S Vos

40.65

47.95

44.30

2

3

2

3

Z Kaczmarek

27.15

47.90

37.53

3

4

3

4

S Pereira

D.N.F.

52.95

26.48

4

2

4

QUAD-LINE INDIVIDUAL EXPERIENCED

RESULTS

RANKING:

POS.

NAME

PREC.

BALLET

TOTAL

PREC.

BALL.

TOT.

1

R Langham

9.40

48.80

29.10

1

2

1

2

S Langham

0.00

48.90

24.45

2

1

2

DUAL-LINE OPEN PAIRS

RESULTS

RANKING:

POS.

NAME

PREC.

BALLET

TOTAL

PREC.

BALL.

TOT.

1

Rare Pair

47.96

52.30

50.13

1

3

1

2

Windswaels

46.11

53.50

49.81

2

2

2

3

Biplane

36.03

54.25

45.14

4

1

3

4

Highly Strung

38.20

46.90

42.55

3

4

4

5

Cunning Stunts

D/Q

44.25

22.13

5

5

5

DUAL-LINE OPEN TEAMS

RESULTS

RANKING:

POS.

NAME

PREC.

BALLET

TOTAL

PREC.

BALL.

TOT.

1

Rare Air

51.95

54.55

53.25

1

1

1

2

Gestreepte VlieŽr Vliegers

39.74

43.95

41.84

2

2

2

3

XS

D.N.F.

30.95

15.48

3

3

3

QUAD

-LINE OPEN PAIRS

RESULTS

RANKING:

POS.

NAME

PREC.

BALLET

TOTAL

PREC.

BALL.

TOT.

1

Rare Pair

12.78

51.67

32.22

1

1

1

2

Biplane

0.00

45.67

22.83

3

2

2

3

Cunning Stunts

2.20

40.00

21.10

2

3

3